Capital.com - The Latest Silver Price Analysis: Will It Break Through $30?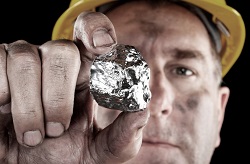 Article by The Capital.com Research Staff in Capital.com
As the COVID-19 pandemic shows little sign of relinquishing control over our lives, volatility in the global market has increased significantly. Governments all over the world are spending an incredible amount of money and racking up ever more debt to fend off the ill-effects of the virus, even though the policy could result in massive inflation worldwide.
The silver price trend has been mostly positive. Since last year, the metal has gained 57.52%, rising 7.24% over the past month and 14.66% over the past six months.
Will the silver price go up? No one is sure what will happen with the significant increase in government spending and increased debt acquisition, but it seems that the precious metal is seeing the benefits of it. As a solid store of wealth in times of trouble, silver is already known to many investors as a valid alternative to gold. Investors worldwide were already bullish on the metal for a variety of reasons, and the performance of silver to date looks encouraging.
Historically, silver has been a good hedge against long-term market volatility and fiat currency inflation. And with the current pandemic looming over us all, the commodity could prove to be a valid asset to hold for a longer period.
Will inflation help silver? Historically it has. The latest silver price forecast shows a positive outlook due to the largest jump in inflation the USD has seen in 10 years, signaling a boon for the metal.
Technology to affect silver prices
One reason for silver's rise in the past year has much to do with upcoming technological movements. Green initiatives, including the rise of electric vehicles and a focus on solar power, utilize silver in some capacity. As these technologies gain adoption, demand for the metal will increase. New green technologies will play a crucial role in the development of our future, and silver is set to be an essential element to that change.
Electric vehicles
One of the most important upcoming changes is the full-steam-ahead approach for automobile manufacturers to be fully electric by 2030. In addition to battery metals like lithium, silver will be a key factor in the changing landscape of electronics of all kinds. High voltage cabling, interior electronic devices, battery management systems, solar panels and more will all contribute to increased silver consumption in automobile manufacturing.
Silver is a unique conductor perfectly suited to these functions and will prove integral to new technologies. It has the highest thermal and electrical conductivity out of the metals and is extremely malleable and versatile. These qualities ensure the metal will be in demand well into the future.
Solar energy
The solar energy industry is experiencing record growth. Between 2014 and 2020, the solar panel installation rate for the US almost quintupled thanks to supportive federal policies and increased demand. Every new gigawatt of solar energy requires around 2.8 million ounces of silver - around 600 million ounces are mined a year. Increased adoption of solar will likely lead to a significant increase in demand for silver, which would raise the metal's value. The world is investing in new technologies that need silver.
The current gold/silver ratio
Another important consideration for silver is that the gold/silver ratio is very favorable. Currently standing at 67.75, as of 21 May, this number illustrates the price of an ounce of gold divided by an ounce of silver. The last three times this number hit 80, silver rallied 40%, 300% and 400%. For reference, the gold/silver ratio hit a peak of 114 back in March which is a healthy sign that the metal is undervalued.
The future of silver
Silver is benefitting from many factors, any of which could be the variable to dramatically increase its price, let alone all of them acting at once. There are technological developments, specifically favoring the green future, uncertainty rooted in the COVID-19 pandemic, silver's history as a strong asset in times of inflation and volatility, and its relationship to gold (which is also experiencing a dramatic rise). These factors point towards a bright future for silver as a long-term investment with the potential to eventually rise to as high as $100 an ounce.
To read this article in Capital.com website in its entirety, click here.