Financial Post: Gold is Surging, But Silver Could Go 'Parabolic' as Precious Metal Ratio Narrows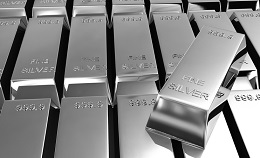 Article by Victor Ferreira in Financial Post
The price of silver has shot up 34 percent since the beginning of July in a whirlwind rally that has made some analysts more bullish on the precious metal than they are on its more beloved sibling, gold.
In truth, silver has been widely outperforming gold since the two bottomed in March, but it has received far less attention. Since March 18, the price of gold has rallied 33 percent and grown in appeal for investors trying to hedge their portfolios against slow economic recovery, inflationary risk and currency devaluation. In that same period, silver prices more than doubled and rallied nearly 108 percent to reach a trading level not seen since 2013.
"Silver has an opportunity to go parabolic," Crescat Capital portfolio manager Tavi Costa said. "We're far away from done in terms of the rally. I still think silver will outperform gold going forward and will be one of the best performing assets of the year."
Costa also sees silver as having elements of a "catch-up trade." The gold-silver ratio, a metric that shows how many ounces of silver are needed to buy one ounce of gold, is hovering around 79, when historically the average is closer to 50. That tells Costa that while silver has already had an incredible run, it still has a lot more room to grow in comparison to its sibling.
Investing in silver is also a play on industrial activity and clean energy, according to Goldman Sachs economist Jeffrey Currie. In a note published Tuesday, Currie wrote that the combination of the European Green Deal and U.S. presidential Democratic candidate Joe Biden's plans to attack climate change should result in a doubling, every year, of solar panel capacity installations in the U.S. and Europe. Currently, solar energy projects account for 15 per cent of silver demand, Currie said.
In the note, Currie raised his price target on gold to US$2,300 per ounce. Should silver industrial demand grow by five per cent next year from 2019 levels, the gold-silver ratio would fall to 77. To reflect that change, Currie also raised his silver price target to $30/oz.
Citi analyst Aakash Doshi came to a similar conclusion in a note last week that suggested investor could ...
To read this article in Financial Post in its entirety, click here.