Market Watch: Silver Rallies to Its Highest in Over a Year, Plays Catch up to Gold Gains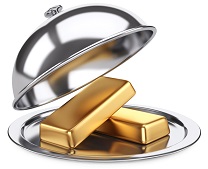 Article by Myra P. Saefong in Wall Street Journal Market Watch
Tight supply concerns, along with strength in gold, may help lift prices for silver back to levels not seen since 2016.Silver futures headed for a fifth straight day of gains session gain on Thursday, on track for their highest finish in more than a year.
"We were overdue for a rally in silver as the gold/silver ratio was sitting near historic highs," said Chris Gaffney, president of world markets at TIAA Bank. "In short, silver had some 'catching up to do' as it was left out of the overall rally in precious metals during the first half of 2019."
Silver was trading at $16.22 an ounce on Thursday, up 24.9 cents, or 1.6%, for the session, and may see the highest finish late June 2018, according to FactSet data. The precious metal posted gains in each of the previous four sessions and trades more than 5% higher so far this month.
"Gold has a pretty good head start on silver during the first half of 2019," said Gaffney, who does not expect silver to surpass gold's overall performance in 2019. Silver, however, "will outperform gold over the remainder of the year," he said.
Near-term the key for silver will be if gold breaks above $1,450 an ounce, and if gold moves to $1,500 and above, it will send silver up to test its next technical level around $20 an ounce, he said. Silver futures haven't traded at levels that high since 2016.
To read this article in Market Watch in its entirety, click here.