Market Oracle: Silver Prepares for Next Leg Higher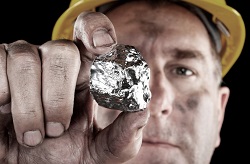 Article by Chris Vermeulen in Market Oracle
Following up on some of our recent metals research, we are seeing significant opportunity in silver: we believe the metal continues to be one of the most incredible opportunities for 2020 as the price rallies to close the gap between the gold to silver ratio.
Our researchers believe silver is currently undervalued, compared to gold, by at least 240%. Historically, the gold to silver ratio averages a 10+ year rotational range of between 63 to 67. This means that through both peaks and troughs, ranging from the high 80s to mid-90s to the low 30s to mid-40s, on average the middle price range level for this ratio is near 65. Currently, this gold to silver ratio is 88.4.
Gold is currently trading at $1590 – just below the recent peak near $1613. We believe the yellow metal will continue to rally higher, breaking the $1613 level, and continue higher targeting the $1750 level over the next few months. Eventually, within 2020, we believe gold will continue to rally higher breaking the $2100 price level.
This continued upside price action in gold, while silver has really yet to see any massive upside price movement, continues to create a massive price disparity between gold and silver – which is highlighted in the gold to silver ratio. As gold rallies, silver must begin to move dramatically higher in order to close this price disparity between the value of gold to silver. Historically, we believe the rally in silver will force the gold to silver Ratio to fall to near the 65 level. This would represent a massive 70% to 120%+ rally in the price of silver – targeting $24.50 to 32.50.
To read this article in Market Oracle in full and view the relating charts. click here.