Investing.com - Mounting Signs, Stock Bubble is on Borrowed Time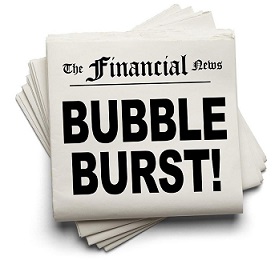 Article by Gary Gordon in Investing.com
Is the "stock market" really going up? Well, large company share prices are.
If you drill down into the mid-sized and small-sized vehicles, however, cracks are beginning to show. Smaller companies are negative on a month-over-month basis. Micro-caps are down even further.
Over the last 6 months? Small company returns (Russell 2000) have been negligible. In contrast, large company stock prices (S&P 500) have catapulted 15%.
There are other signs of weakness. When more shares in the broader marketplace are advancing than declining, the New York Stock Exchange's Advance/Decline (A/D) Line rises. This was the case from November of 2020 up through July of 2021.
Since peaking in July, though, decliners have outpaced advancers. This may be an indication that a bigger sell-off is in the works.
Another sign that large stocks have gotten way ahead of themselves? Fewer and fewer of the individual names in respective indexes (e.g., S&P 500, NASDAQ, Russell 2000, etc.) are in a technical uptrend.
In essence, individual companies are faltering. Either mega-caps like Apple, Facebook, Google and Microsoft will continue shouldering the load, or the rest of the market may drag down the extremely overvalued leaders.
Beyond the aforementioned risks, the S&P 500 has now gone more than 200 trading sessions without so much as a 5% pullback. Unheard of? No. Unusual? Yes.
Inflation is yet another reality. And it may not be as transitory as the Federal Reserve would like.
The last time the median S&P 500 stock's short interest was this low? The year 2000.
The parallels with 2000 are obvious. The excuse to ignore those parallels? Significantly lower interest rates.
Can the Fed ignore inflation? Can the central bank continue printing hundreds of billions of dollars to suppress rates and prop up stocks as well as real estate? Perhaps.
Ironically enough, the .....
To read this article in Investing.com in its entirety and view the relating charts, click here.