Market Watch: Stocks are going to 'crack pretty hard,' and here's what one billionaire says investors should do to prepare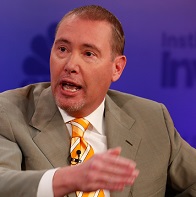 Article by Shawn Langlois in Market Watch
'Within 18 months, it's going to crack pretty hard. I think that you want to be avoiding it for the time being. When the next big meltdown happens, I think the U.S. is going to be the worst performing market, actually, and that'll have a lot to do with the dollar weakening.'
That's DoubleLine Capital billionaire Jeffrey Gundlach, who has been hailed as "The Bond King," sharing his bearish thoughts on the stock market in a recent Real Vision interview.
"I actually think owning 25% gold isn't crazy right now. Nor do I think owning 25% cash is crazy," he said, noting that the two risk-averse positions make up half of the "permanent portfolio" concept, alongside 25% in stocks and 25% in bonds.
"That's a good investment right now," Gundlach said. "I think we have such a potential tail risk of outcomes, such a dispersed potential outcomes, that you really need to have this barbelled asset allocation concept."
"I don't think people fully understand how many business closures there's going to be in the next few months," he said.
"There's going to be a lot more of that. I think it's going to really accelerate. I think there's going to be ...
To read this article in Market Watch in its entirety, click here.