Market Watch: Ray Dalio Says Watch Out for Rates Reaching This Level, Because Wall Street Stocks Will Take a 20% Hit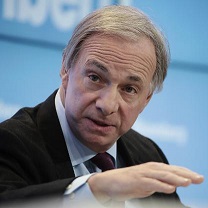 Article by Barbara Kollmeyer in Market Watch
After that CPI shock earlier in the week, Wall Street is fielding a fresh batch of data on Thursday, with the headline retail sales number coming in stronger than expected. And a disastrous rail strike may be inverted.
But there's no cheering up billionaire investor and hedge-fund manager Ray Dalio who asserts the Fed has no choice but to keep driving up interest rates, at a high price to stocks.
And he's putting some fairly precise guesswork out there. "I estimate that a rise in rates from where they are to about 4.5% will produce about a 20% negative impact on equity prices," Dalio said.
As for what happens when people start losing money in the markets — the so-called "wealth effect" — he expects ......
To read this article in Market Watch in its entirety, click here.