CNN Business: Swings in Market Sentiment Resemble Pre-Lehman Crisis, Strategist Warns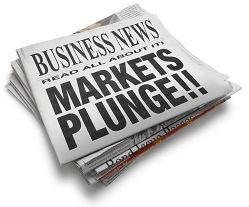 Article by Matt Egan in CNN Business
Wall Street's mood swings are starting to feel eerily similar to the months before the implosion of Lehman Brothers set off the 2008 financial meltdown, according to a market strategist.
Masanari Takada, a strategist at Nomura, warned in a report this week that an "ominous pattern" is developing in market sentiment that could point to deep losses ahead.
Takada cited the sharp deterioration in an internal equity sentiment index, which is calculated by the Nomura macro and quant strategy teams and is based on unspecified market data. The recent swings in sentiment look like the ones experienced by the same index at the same point in 2008. "The trend in US stock market sentiment is starting to resemble the pattern observed in the run-up to the Lehman crisis," Takada wrote in the report.
Similar to 2007, US market confidence cratered late last year due to recession fears. The S&P 500 suffered its worst December since the Great Depression. US markets raced back to life in early 2019, driving a recovery in sentiment like the one that occurred in mid-2008.
Takada flagged points of similarity between the trend in sentiment now and before the Lehman collapse. Specifically, he pointed to the extent of the recent deterioration in market sentiment — and the timing of that decline. "The correlation could turn out to be coincidental," Takada said.
If it's not a coincidence, he warned, then there is a risk of a "bear-squeeze rally" in US stocks from mid-June through early August followed by a "massive sell-off" late in the summer.
To read this article in CNN Business in its entirety, click here.