Yahoo Finance: The World's Super-rich are Hoarding Physical Gold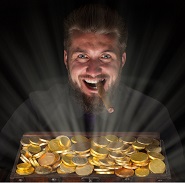 Article by Myles Udland in Yahoo Finance
Bullion is the only real hedge
Gold has had a great run in 2019. Over the last year, gold prices are up nearly 20%. The yellow metal is on pace for its best year since 2010.
In a note to clients published over the weekend, analysts at Goldman Sachs outlined why the strategic case for owning gold remains strong.
The firm cites political uncertainty and recession fears that are unlikely to abate as primary catalysts, among other worries among the global elite like wealth taxes and increasing talk about MMT and central bank effectiveness.
By 2020, the firm thinks the price of gold will reach $1,600 an ounce; on Monday, gold was trading near $1,460.
But the firm also surfaces some really interesting data on how investors have expressed their desire to own gold. Which is that owning the physical metal seems to be the global elite's preferred way to hedge against tail events.
"Since the end of 2016 the implied build in non-transparent gold investment has been much larger than the build in visible gold ETFs," the firm writes, citing the chart below.
In plain English, this means that for those including gold in their end-of-the-world trade, owning gold bullion is a must.
"This [data] is consistent with reports that vault demand globally is surging," the firm writes.
To read this fascenating article in Yahoo Finance in its entirety, click here.