Newsweek: A $10 Trillion Corporate Debt Bomb Is Waiting to Explode the U.S. Economy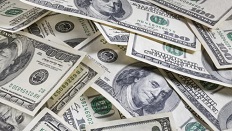 Article by Brendan Cole in Newsweek
Even before the pandemic reached its height, the IMF was warning in January that the world's largest economies like the U.S. were unprepared for a slowdown.
Fast forward half a year, with millions of lost jobs and thousands of businesses gone bankrupt in the U.S. because of the novel coronavirus, the word slowdown is inadequate to describe the scale and speed of the economic collapse.
And the pandemic could yet throw another grenade at the economy: A massive corporate debt explosion.
The American economy has lived on debt for a long time. The ratio of the total debt of the government, businesses, and consumers relative to GDP has more than doubled since the 1980s. Record-low interest rates following the 2008 financial crisis further swelled the debt significantly.
U.S. companies owe more than $10 trillion, which is nearly half of the country's 2019 GDP of $21.5 trillion. Taking other forms of business debt into consideration, including partnerships and small businesses, that figure stands at an eye-watering $17 trillion, the Financial Times reported earlier this month.
"This increase in debt has contributed to increased economic volatility, and has left the country in a weakened position to deal with shocks such as the current virus," Robert Goldberg, associate professor of finance and economics at Adelphi University in New York, told Newsweek.
In the last few months, this mountain of corporate debt has been compounded by a once-in-a-century event.
Aimed mostly at the investment-grade debt market, the issuance of non-investment grade debt "has skyrocketed" in ...
To read this article in Newsweek in its entirety, click here.