Bloomberg News: UBS's Trahan Sees 'World of Trouble' for Stocks on Earnings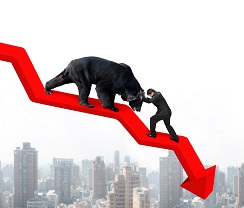 Article by Vildana Hajric in Bloomberg News
Stocks vault to a record smack in the middle of earnings season. Everything's fine, right? No, say strategists at UBS Group AG.
A deterioration in earnings expectations is likely to get worse and poses the biggest threat to U.S. equities, strategists led by Francois Trahan wrote in a note. UBS says the expected rate of 12-month earnings growth will turn negative in the coming months.
"There are many ways to assess the health of S&P 500 earnings, but at this stage no matter how you slice it, the trend is slowing," the strategists wrote in a note titled "If History Were A Perfect Guide...Stocks Would Be In A World of Trouble Here."
It's ominous for U.S. equities, which have remained resilient this year in the face of headwinds including weakening economic data.
For UBS, earnings expectations for the S&P 500 are closing in on turning negative, the strategists wrote, and expectations for small- and mid-cap indexes are already there. Take, for instance, the number of companies with negative EPS growth, which has more than doubled since the beginning of the year to 160 from 68, according to UBS.
It spells trouble for U.S. markets -- across history, a contraction in earnings has been a key catalyst to bear markets, wrote the UBS strategists, and theirs isn't the only firm to ring this warning bell.
To read this article in Bloomberg News in its entirety, click here.