Forbes: UBS Tells Clients to Prepare for A Contested Election by Buying Gold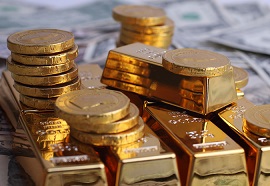 Article by Sergei Klebnikov in Forbes
With Election Day just five weeks away, investors are growing increasingly fearful of a contested presidential election—and UBS is the latest Wall Street firm to warn about increased stock market volatility telling clients to buy safe haven assets like gold.
The looming standoff between President Donald Trump and Democratic nominee Joe Biden could lead to disputed results with no clear winner on Election Day, which would weigh heavily on the stock market, UBS warned clients.
Trump has thrown into question whether he would accept a peaceful transfer of power if he loses; meanwhile, a rise in mail-in ballots—as the coronavirus keeps many people from voting in-person—could also lead to delayed results.
"A contested [election] outcome is still a possibility, which could add to further volatility and result in safe-haven flows," UBS chief investment officer of global wealth management Mark Haefele told clients in a recent note.
The firm said that because of a "far-from-certain" election outcome, clients should buy gold, a traditional safe haven asset which tends to perform well during times of economic uncertainty.
Although Gold prices fell by more than 4% last week, UBS said that the recent pullback was just a temporary correction and that gold is set to rally higher going into the election.
UBS said that gold will also continue to rally thanks to ...
To read this article in Forbes in its entirety, click here.