The Wall Street Journal: U.S. Budget Deficit Widened to a Record $1.7 Trillion for Six Months, as Stimulus Checks Fueled Spending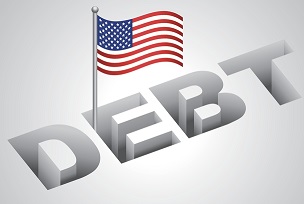 Article by John McCormick in The Wall Street Journal
The U.S. budget deficit grew to a record $1.7 trillion in the first half of the fiscal year as a third round of stimulus payments sent federal spending soaring last month.
The budget gap, broadened by the Covid-19 pandemic and related shutdowns that sent the economy into a tailspin starting in March 2020, is now more than double what it was for the same period a year ago, the Treasury Department said Monday.
The deficit was $660 billion last month, 454% wider than it was in the same month a year ago. Revenue rose 13% to $268 billion, while spending increased 161% to $927 billion—the third-highest total on record, after June and April of last year.
The government's spending surge has provided some cushion to the economy from the pandemic's devastation, but it has also sent the federal debt soaring to levels not seen since the end of World War II as a proportion of the economy. Weaker corporate-tax revenue has contributed to the budget shortfall.
"While much of the borrowing of the past year was unquestionably warranted, we are now becoming dangerously numb to the trillions in debt that are piling up," said Maya MacGuineas, president of the bipartisan Committee for a Responsible Federal Budget. "We need to start paying for what we spend. We need a plan to bring down the debt."
"The increase in the deficit since before the pandemic is hard to wrap one's head around," said Wendy Edelberg, a former Congressional Budget Office chief economist who in June became director of the Hamilton Project, a think tank affiliated with the Brookings Institution.
Federal debt has been marching upward ever since the fiscal crisis at the end of George W. Bush's administration and the start of Barack Obama's presidential tenure. Former President Donald Trump also ushered in spending programs and tax cuts that widened the gap sharply even before the coronavirus crisis.
Even before the latest aid package was passed, the CBO projected that federal debt would equal 102% of gross domestic product in 2021.
The CBO has projected that the federal debt will almost double from here to .....
To read this article in The Wall Street Journal in its entirety, click here.