The Wall Street Journal: U.S. Debt Is Set to Exceed Size of the Economy for Year, a First Since World War II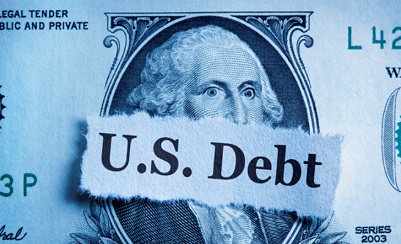 Article by Kate Davidson in The Wall Street Journal
U.S. government debt is on track to exceed the size of the economy for the 12 months ended Sept. 30, a milestone not hit since World War II that has been brought into reach by a giant fiscal response to the coronavirus pandemic.
The Congressional Budget Office is expected to report on Wednesday that federal debt held by the public is projected to reach or exceed 100% of U.S. gross domestic product, the broadest measure of U.S. economic output. That would put the U.S. in the company of a handful of nations with debt loads that exceed their economies, including Japan, Italy and Greece.
The surge in borrowing so far isn't creating angst among investors or hampering the U.S.'s ability to borrow more. Investors have gobbled up U.S. Treasury assets, drawn to their relative safety. Moreover, interest rates are expected to remain low, suggesting the government still has plenty of room to borrow.
By another measure, the U.S. passed the mark in the April to June quarter, when government spending surged to combat the new coronavirus and tax revenue plunged. But this would be the first time in more than 70 years for it to do so for the federal government's full fiscal year.
The last time the U.S. debt level exceeded economic output was in 1946, when it stood at 106% after years of financing military operations to help end the second World War.
"It was a massive rise in borrowing and quite shocking, but incredibly effective," said former CBO chief economist Wendy Edelberg, who in June became director of the Hamilton Project.
Cutting the size of the nation's debt hasn't in recent years been a priority of lawmakers in either political party—a factor that facilitated bipartisan support for earlier pandemic stimulus packages. The latest effort is testing the limits on lawmakers' willingness to spend, however. Democrats have pushed for a broad-based, $3.5 trillion relief package, while the White House and Senate GOP have sought to cap the bill at $1 trillion. Some Republicans have argued against any additional relief measures at all.
While debt has risen in most advanced economies, the U.S. is the only country whose debt-to-GDP ratio is expected to continue rising after 2021, according to the International Monetary Fund's Fiscal Monitor Report. It is also expected to record the biggest ...
To read this article in The Wall Street Journal in its entirety and view the relating charts, click here.