Bloomberg News: US Budget Deficits Are Exploding Like Never Before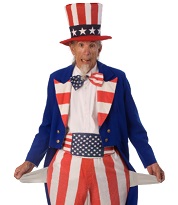 Article by Bloomberg News
American politicians are keener than ever to juice the economy with government cash, a shift that's already helping to drive up borrowing costs and looks likely to keep them high long after the inflation emergency is over.
The outlook for the federal budget right now is essentially unprecedented—crisis-size deficits as far as the eye can see, even though the economy appears to be in good health. That prospect is making investors uneasy, as demonstrated by yields on benchmark 10-year Treasuries climbing above 4.3% this week, their highest levels since 2007. Other borrowing costs are rising in tandem: The average rate on a 30-year fixed mortgage has surged above 7% for the first time in more than two decades.
Investors worry that sustained fiscal shortfalls on .......