Wall Street Journal: Wary Investors Reach for Gold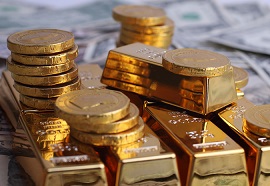 Article by Ira Iosebashvili in Wall Street Journal
Investors are buying gold again as concerns about a slowing global economy are putting a premium on safer investments.
Gold prices are up 14% since late August, when the Nasdaq Composite Index last hit a fresh record, and stand at their highest level since last April.
Fresh worries about the health of major economies in Europe have quelled the expected rise in global interest rates this year, boosting the stock of negative-yielding government bonds. Gold draws more investor interest when borrowing costs fall, in part because the lower rates are a function of economic uncertainty.
That has made gold a compelling choice for money managers seeking to hedge their portfolios at a time of anxiety over economic growth and trade conflicts between the U.S. and its partners, said George Gero, managing director at RBC Capital Markets.
"Everywhere they look, investors see problems," Mr. Gero said.
Gold buyers are taking heart in suggestions by Federal Reserve officials that the central bank may refrain from raising rates this year. Fed funds futures, which investors use to bet on the direction of Fed policy, late Wednesday showed that 9% believe rates will fall this year, while nearly 91% are betting they will be unchanged.
A stock-market decline late last year has also helped gold, though this year's gold rally has taken place alongside a sharp bounce in the S&P 500, which is up more than 11%.
"After the complacency of recent years, investors are realizing they may be overexposed on the equity side and want to build up a hedge," said Maxwell Gold, director of investment strategy at Aberdeen Standard Investments.
Investors aren't the only ones seeking out gold. Central banks bought the most gold by volume last year since 1967, according to the World Gold Council. Gold holdings at global central banks have increased by roughly 13%—or 3,900 tons—since 2009, according to TD Securities.
China announced in December that it had increased its gold pile by nearly 10 tons in 2018, its first purchases in three years. Also buying last year: Russia, Turkey and Kazakhstan.
Many emerging-market countries are looking to boost their gold reserves, which are comparatively small, said Bart Melek, head of commodities strategy at TD Securities. Other nations, such as Russia, which the U.S. has repeatedly sanctioned in recent years, are seeking to lessen their dependence on the dollar.Mr. Melek expects central-bank gold holdings world-wide to grow by another 800 tons over the next two years.
Hakan Kaya, a portfolio manager at Neuberger Berman, increased his gold position in the final quarter of last year and expects a softer dollar, dovish Fed and growth worries to keep prices elevated.
"A lot of people see a bad moon rising, and if you want to have a downside hedge, gold is the instrument," he said.
To read this article in Wall Street Journal in its entirety, click here.