Daily Wealth: What the 1970s Tell Us About Today's Gold Boom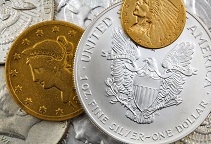 Article by Steve Sjuggerud in Daily Wealth
Howard Ruff's advice could have set you up for an early retirement in the mid-1970s. Howard was a newsletter writer. He launched his Ruff Times letter in 1975. He even had his own syndicated TV show.
Howard expected inflation to ravage the U.S. economy. He saw a period of hyperinflation coming that he believed could lead to a depression... and he expected it would destroy stock and bond returns in the following years.
That's why Howard recommended precious metals. These were hard assets whose value wouldn't erode as inflation devastated the dollar. So he urged his followers to buy gold and silver before rapid inflation set in.
The 1970s and early 1980s saw an extreme spike in inflation. And precious metals prices soared.
I tell you that because we're in a similar situation right now. And it means a long-term gold and silver boom could be underway.
Gold went from $65 per ounce at the beginning of 1973 to roughly $195 by the end of 1974. And it was just getting started. By 1979, the metal's price broke above $500 per ounce. It eventually peaked at $850 in January 1980.
Ultimately, gold rallied more than 1,200% from the end of 1972 to its peak in 1980. It was a historic run.
If you were one of Howard's subscribers, you could've made enough to set yourself up on a beach somewhere for a permanent vacation.
Why are we talking about a rally from decades ago? It's because what happened then is a lot like today's environment...
Right now, we are seeing signs of another inflation rally... one that could mean a dramatic rise in gold prices.
You see, the Federal Reserve is doing everything it can to cause inflation. Money is cheap, and it should stay that way for years. And that means paper dollars ....
To read this article in Daily Wealth in its entirety, click here.