The New York Times: What Goes Up ...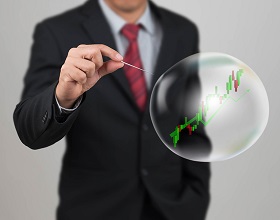 Article by Andrew Ross Sorkin in The New York Times
Warning signs
U.S. stocks have been on a run, with the S&P 500 up nearly 4 percent so far this week, and more than 25 percent for the year. Fears about the Omicron variant of the coronavirus quickly faded, with stocks regaining all their lost ground. This makes some market watchers nervous.
In a note to clients, Bank of America equity strategists led by Savita Subramanian said that the S&P 500 now has a real earnings yield, the inflation-adjusted ratio of earnings per share to the stock price, approaching negative 3 percent, the lowest since 1947.
A low earnings yield means that corporate profits are not keeping up with stock prices. Since real yields factor in inflation as well as earnings, a negative yield means that a company, based on its stock price, is not earning enough to keep up with inflation. (Using last month's inflation number, Tesla's real earnings yield is negative 5.2 percent.)
Negative real earnings yields are rare and often precede a stock market slump.
The last time the S&P 500 had a negative real earnings yield, the Bank of America analysts said, was in 2000, before the tech bubble burst.
It also happened twice during the stagflation of the 1970s and '80s. This year, the S&P 500's real earnings yield turned negative in June, but it really sunk in the past few months as inflation has marched higher.
Besides a bear market, there are two ways a negative earnings yield can turn positive.
Inflation would have to drop significantly, which some economists think is possible.
Corporate profits, at a time when wages are rising and supply issues are interfering with plans, would have to accelerate faster than expected.
After the initial shock of the pandemic, stocks have shrugged off negative news and ......
To read this article in The New York Times in its entirety and view the relating charts, click here.