CNBC: Wild Inflation Will Hurt All Financial Assets, Market Researcher Jim Bianco Warns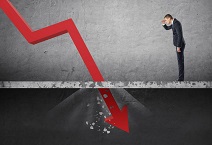 Article by Stephanie Landsman in CNBC
There may be no escape from the bond market turmoil — even for stock investors.
Market researcher Jim Bianco warns critical Federal Reserve policies to control wild inflation will inflict widespread losses on Wall Street.
"Eventually, this is going to come back and hurt all financial assets," the Bianco Research president told CNBC "Fast Money" on Thursday.
Bianco turned bearish on stocks late last year, primarily due to inflation risks. He blames the Fed for waiting too long to end its pandemic easy money policies and lift interest rates.
"The call last year that inflation would be well-contained and transitory is arguably one of the worst forecasts in Federal Reserve history," said Bianco.
He worries about the big catch-up's costs.
"They don't intend on creating a hard landing. But what they do intend on doing is reining in prices," Bianco said. "They want lower inflation, and they're going to raise rates until they get lower inflation. How are they going to do that? They're going to slow demand down."
According to Bianco, the Fed's only solution is to boot interest rates quickly and get wealthy people to stop spending. The bond market is already discounting the central bank's likely bold moves.
"The bond market gets it. The carnage is epic," he wrote in a recent Twitter thread. "This is not only the worst bond market in our career (total return) but might be the worst of our lifetime."
Bianco contends the Fed is aware the stakes are high.
"They don't want to create the mistake in the other direction by being too timid right now. That's out the window now," Bianco said. "They don't want to create a broken market. They don't want to create a recession. But when you go down that path and you're that adamant about trying to rein in inflation, it makes it very likely that you will create a .......
To read this article in CNBC financial website in its entirety, click here.