CNBC: The World's Largest Hedge Fund Sees Gold Rising 30% to $2,000: 'There is So Much Boiling Conflict'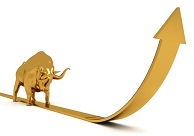 Article by Yun Li in CNBC financial
Gold prices, which briefly topped $1,600 last week, could rally to $2,000 an ounce amid heightened political risks, Bridgewater's co-chief investment officer Greg Jensen told the Financial Times Wednesday.
The manager from the world's biggest hedge fund cited increased income inequality in the U.S. and rising tensions with China and Iran as uncertainties ahead that will prompt more safe-haven buying. Bridgewater manages $160 billion in assets, more than any other hedge fund.
"There is so much boiling conflict," Jensen told the paper. "People should be prepared for a much wider range of potentially more volatile set of circumstances than we are mostly accustomed to."
Jensen also believes the Federal Reserve would let inflation run hot for a while, which also creates an environment for higher gold prices as investors tend to use the precious metal as a hedge against inflationary forces.
Bridgewater is not alone in recommending the bullion. DoubleLine CEO Jeffrey Gundlach also said last year he was a buyer of gold on expectations that the dollar would weaken.
To read this article in CNBC in its entirety, click here.