Bloomberg News: The U.S. Is on the Edge of the Global Negative Interest Rate Club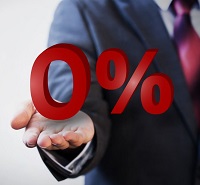 Article by Vivien Lou Chen in Bloomberg News
Government bonds in Denmark, Germany, Japan, Sweden, and Switzerland carry negative yields—meaning it will cost money for investors to hold them to maturity. A big question for fixed-income markets in 2020 is whether it could happen in the U.S., too.
Bond yields fall when their prices rise, and in August investors piled heavily into U.S. Treasuries, driving yields on the benchmark 10-year bond to a three-year low of 1.43% by early September. Yields have climbed back some since, to around 1.8%, but investors are still getting a razor-thin income for lending to the U.S. government. (Over the past 20 years, the average is 3.5%.)
There are several reasons why that matters. First, the yields on these bonds help set the pace for long-term borrowing costs throughout the economy, whether home loans or corporate debt. But they also reflect investors' sentiments about the economy. And the story these low yields tell isn't rosy.
One force pulling down bond yields has been the U.S. Federal Reserve's recent cuts in key short-term interest rates. The central bank has been adding stimulus to the U.S. economy in part because it's worried about a slowdown in global growth. Meanwhile, the fact that 10-year bond investors are willing to be paid so little suggests they have little fear of inflation, which usually goes hand in hand with a strong expansion.
If the Fed keeps cutting short-term rates back to near zero, where they were from late 2008 to 2015, and also restarts quantitative easing, "negative yields on U.S. Treasuries could swiftly change from theory to reality," Joachim Fels, global economic adviser at Pacific Investment Management Co., wrote in August.
To read this article in Bloomberg News in its entirety, click here.