CNBC: The Fed Could Be Locked into Zero Rates for Five Years, or Even Longer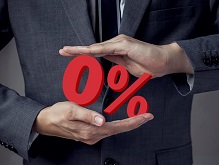 Article by Jeff Cox in CNBC financial
Wall Street is prepping for a return to the post-Great Recession days, when rock-bottom short-term rates prevailed for seven years before the Fed even tried moving them higher.
Fed officials have outlined a revised policy in which it now will target "average inflation," meaning a higher tolerance for inflation above 2% before hiking interest rates from current levels.
In an appearance Monday, Fed Vice Chairman Richard Clarida elaborated on the policy with some notable comments. Clarida said the Fed won't be hiking rates just because unemployment drops to a certain level. "We're willing to allow the economy to operate at full strength even if it means a modest overshoot of the inflation objective," Clarida said.
Wall Street economists see a period of several years before the Fed is able to hike again.
Goldman Sachs, for instance, estimates policy "liftoff" that would come "around early 2025," depending on the metrics the Fed wants to use.
Others on Wall Street see a five-year time frame as realistic as well.
Tony Dwyer, an analyst Canaccord Genuity Capital Markets, said the Fed will combine low rates with a prolonged campaign of quantitative easing, the bond-buying program that has helped add nearly $3 trillion to the central bank balance sheet since the pandemic began.
Dwyer sees "a zero-interest-rate policy and open-ended quantitative easing (QE) for the next five years," as government debt piles up and the Fed is called on to underwrite trillions in stimulus spending. "We believe the ...
To read this article in CNBC financial website in its entirety, click here.