Bass
The Renaissance Man Who Took Up Coin Collecting...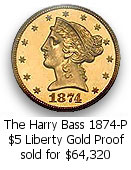 Harry Bass was one of the greatest, most successful coin buyers and collectors of his era. Unlike Eliasberg or Pittman, who began their lives in modest circumstances, this pillar of numismatics was born into immense petroleum-based wealth on January 6, 1927.
He spent his childhood in Dallas, was educated at the University of Texas and at Southern Methodist University, and promptly took his place in his father's oil company, H.W. Bass and Sons. Among his many life accomplishments, he was instrumental in organizing the republican party in Texas, was a pioneer in computers, and, along the way, helped build the Vail Ski Resort in Colorado to the worldclass community it now is.
Harry had a great appetite for things of the past. So he collected them. He was especially interested in assembling complete collections of the finest available examples, regardless of the particular antiquity he happened to be interested in.
His love of coin collecting began, according to him, when he was 28. In a 1992 Coin World interview, the following story was told...
In 1955, an accountant friend of Bass' asked him if he could obtain some 1955-D Washington quarter dollars, since the mintage on the coins was low. Bass served as a bank director at the time.
Bass said he was able to obtain a $10 roll of the coins for face value. Ten years later the friend brought that roll of quarter dollars back to Bass and explained that a coin dealer down the street offered him 10 times the face value.
"That captured my attention," Bass said. "I looked at numismatics being first, perhaps, an investment vehicle."
A Fascination with Mint Marks
Since about that time until his death in 1998, Harry avidly pursued his interest. It soon focused on 19th-century gold coins. Contrary to what might be expected, Harry soon learned that among these rare gold coins he so dearly loved, were available. In fact, in the 1960s, it was possible to buy some of the more common dates of $20 gold coins for less than $100 each (Approximately $420 in today's dollars).
In his first purchase—an 1803 Capped Bust U.S. $10 gold eagle—he discovered that it was of the "14 star" reverse variety. That began his lifelong fascination with die varieties. Today's Harry Bass collection of U.S. gold coins is a veritable encyclopedia of die varieties and die states of those early coins. This is not a simple subject. For example, as dies were used and used up, the various mints sought to extend their life by resurfacing them, which created an array of different varieties.
As Harry was soon to learn, the combination of dies with different dates would appear endless. Enough to occupy someone as meticulous as a Harry Bass for an entire lifetime.
President of the American Numismatic Society... and Master Collector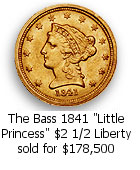 This Renaissance Man's love of collecting increased over the decades of the '60's and '70's-he would rarely miss a major auction-until, in 1966, Harry Bass applied for and was elected an Associate Member of the American Numismatic Society. That affiliation broadened and, from 1978 through 1984, he served as president of the American Numismatic Society. He served as a councilor of the Society in the ensuing years.
As president of the Society, he was determined to leave his mark. He did that by cataloging 76,000 entries in a searchable listing of the 15 major numismatic periodicals since the Civil War. This gives collectors and investors an unsurpassed reference tool. He also established a strong numismatic educational program for the ANS.
At his death, Harry Bass had assembled the most extensive collection of United States gold coins ever witnessed. Although missing some dates and mintmarks, it was notable for the exceptional quality of the rarest and scarcest coins in the collection, some being among the very finest of their kind. Highlighted by the 1870-S $3, Harry's collection of $3 gold remains the standard by which all other such collections are judged.
Included in his collection were over 8,000 gold coins, U.S. currency and patterns, as well as territorial and private gold coins, California gold issues, tokens, early American medals, Morgan Carson City silver dollars, modern proof sets, and unique numismatic pieces. To provide the educational background and support for these coins, Bass had perhaps the finest numismatic library ever assembled: over 10,000 numismatic books and catalogs in total.
The Greatest Coin Collection Ever?
Not long after the death of Harry Bass, his collection was divided between the finest coins to be kept for the ANS's perpetual collection and the lesser coins to be sold at auction.
Although, perhaps, "lesser," these coins were nonetheless among the greatest coins ever sold at auction. All told, the collection commanded $38,106,790.00 ranking the Bass Collection as the second most valuable collection of American coins ever auctioned (the Eliasberg collection, at $45 million, being the current record-holder). Had his "core" coins been auctioned instead of contributed to the ANS, it's no doubt that Bass would have the distinction of assembling the most valuable coin collection ever.
The statements made on this website are opinions and past performance is no indication of future performance or returns. Precious metals, like all investments, carry risk. Precious metals and coins may appreciate, depreciate, or stay the same depending on a variety of factors. Lear Capital, Inc. cannot guarantee, and makes no representation, that any metals purchased will appreciate at all or appreciate sufficiently to make customers a profit. The decision to purchase or sell precious metals, and which precious metals to purchase or sell, are the customer's decision alone, and purchases and sales should be made subject to the customer's own research, prudence and judgment.