Pittman
How a Man of Modest Means Assembles the Greatest Coin Collection Ever...
The collection of the late John Jay Pittman was coinage unrivaled for quality, completeness, and breadth outside the Smithsonian or the British Museum. It eclipsed the magnitude of other headline-making collections: the Eliasberg, the Garret, and the King Farouk, especially when you consider this: the multi-million-dollar Pittman collection was assembled by a man of humble background and modest means.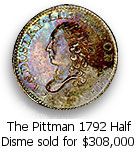 The late J.J. Pittman was born in North Carolina in 1913, his mother a teacher and father a railroad worker. He was ten years old before he owned a new pair of shoes. At age thirteen, he was attending school and doing farm work full time. He had dreams of going to medical school, but a financial angel insisted he go to college for four years, then get a job so he could send a younger brother and sister through school. Pittman agreed, earned a degree in chemical engineering, and went to work for Kodak in Rochester, NY. He lived up to his word and paid for his sibling's education.
Modest and unpretentious, Pittman worked hard and saved nearly all he earned, savings he applied to a hobby that was also an investment. Pittman was so passionate about collecting coins, and his wife, Gehring, was so supportive of his passion, that in 1954 they mortgaged their home to finance a trip to Egypt to participate in the King Farouk Palace Collection auction.
Investment Champions, Eat Your Wheaties
"Pittman was very clever," David Akers, the numismatist assigned by the Pittman family to handle liquidation of the collection, explained. "He traded his way up the ladder. That's why he gravitated towards proofs. Back when he started, proof sets weren't really popular. He knew they were rare and didn't cost a lot of money on a per-coin basis. He bought great rarities for $20 or $30. Today, some of them look like they'll bring $20,000 and $30,000 each or more."
In 1970, Pittman purchased 20 proof sets for $13 each. That year, he traded one for a single coin: a Bechtler $5 Carolina gold, Rutherford, which brought $14,300.
Pittman's daughter, Polly Edwards Pittman, remembers a less hard-edged, more whimsical method of collecting: "In going through Dad's things, after he died, one item I found was a small envelope and inside was a copper piece in a cellophane packet. A note from Dad said, '1953 Belgian Onecentime piece, Wheaties box.' In the early 50s General Mills put small foreign coins in cellophane packets in Wheaties boxes. We ate Wheaties when we were kids, because we wanted to get the coins—Dad wanted us to get the coins."
Pittman's Passion for History and Beauty
J.J. Pittman died February 17, 1996, one day before his 83rd birthday. By that time, piece-by-piece, set-by-set, he had painstakingly accumulated a collection which, when divided for auction, numbered more than 12,000 lots. It drew dealers, brokers, collectors, and investors from all over the country and many parts of the world.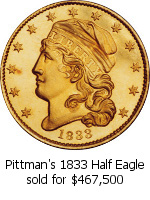 The lots that drew the highest bids...
An 1833 Half Eagle gold sold for $467,500. Pittman bought it at the Farouk auction for $635.
A boxed 1844 proof set—seven silver and three gold coins, half-cents to Eagle—went for $440,000 to coin collector Phil Kaufman. Pittman's cost for the set was $890.
An 1859 proof set brought $426,250.
An 1843 boxed proof set sold for $412,500.
Interestingly, John Jay Pittman gave little thought to return on investment. According to Akers, Pittman "rarely, if ever, purchased a coin with a concern as to how much it might be worth someday. It was the history, the beauty, the rarity, the story behind the coin that intrigued John." Polly Pittman-Edwards concurs: "I think he fell in love with coin collecting because he had already fallen in love with history," she said. "Every coin was a history lesson. We all learned so much. We went to places that were historically linked to the coins he collected. There were always books around, and Dad was full of stories about the lore of coins."
The Statue of Liberty Play
His intense love of coins, which won J.J. Pittman many admirers, proved daunting to at least one fellow collector, Phil Kaufman, the buyer of the boxed 1844 Proof Set, recalled seeing Pittman at several numismatic gatherings. "I never spoke to him," Kaufman said. "His knowledge was so superior to mine, I felt intimidated about approaching him."
Kaufman was not alone. David Akers recalls an auction 41 years ago when one of the legends surrounding Pittman was born. "It was April 27, 1956 in Indianapolis," he recounts as if it were yesterday, "during Abe Kosoff's auction of the Thomas G. Melish Collection. John Pittman came there determined to own all five Proof Indian Head gold dollars on sale—at reasonable prices. How he did so is pure Pittman and explains how he was given the nickname, 'Statue of Liberty'.
"As Kosoff called Lot 1742, a Proof 1854 Indian Head gold dollar, Pittman stood, walked to the front of the room, turned his back on the auctioneer and faced the crowd. Then he raised his arm and held it aloft through all the bidding. He glared intently at each bidder as the auction continued. He stared them down and made them blink. He did this for all five coins and won them at reasonable prices."
Pittman's Global Approach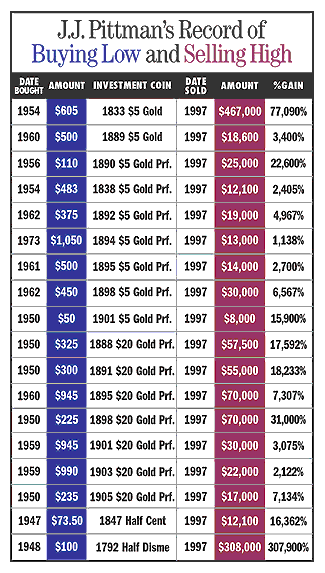 The Pittman Collection was eclectic, replete with important specimens from all over the world. "He always liked foreign coins," remembers Akers. "He collected foreign coins alongside his US pursuits, right from the start. Pittman's foreign collection includes coins from Cuba, Canada, Great Britain, Russia, Japan, Sweden, Mexico, South Africa, and Australia. The Canadian coins are so significant that they alone warranted two separate auctions. Among the coins sold in the first auction was one of those most prized by Pittman: the renowned 1936 Dot Cent, which bought $121,000.
The task of researching, grading, and discovering Pittman's cost of acquiring each piece in the collection fell to David Akers. "In his lifetime," Akers recalls, "Pittman knew exactly where he had everything. But, after he died, the collection was scattered in many lock boxes. The hard part was finding out what he had and where it was. Once they were in a reasonable order, grading them, evaluating then—we all do that—it's not that tough."
Sales of the 1997 auction totaled more than $14 million. This huge collection was divided and began a multitude of journey's into other hands. A successful bidder for several lots, who wishes to remain anonymous, said, "I was at the Eliasberg auction, and it reminded me of the fundamentals: have a strategy, buy quality, upgrade, build a relationship with a reputable dealer. Pittman did the same, with one added element: by buying or assembling early, rare proof sets, he added value to his individual coins."
Polly Edwards Pittman has a different take: "The sale has been helpful at a time when I could be distracted by memories that would be difficult to handle," she muses. "It has given me something to participate in and therefore treat as the celebration that I feel it should be."
For David Akers, it will be the end of two years of hard work, but that's not what he'll mainly remember. "For me," he says softly, "the most amazing aspect of the John Jay Pittman Collection is that John built it entirely on his own, from scratch, one coin at a time, with limited financial resources. It will always be a collection that was one of a kind. Just as John was."
The statements made on this website are opinions only. Past results are no guarantee of future performance or returns. Precious metals, like all investments, carry risk. Precious metals and coins may appreciate, depreciate, or stay the same depending on a variety of factors. Lear Capital, Inc. cannot guarantee, and makes no representation, that any metals purchased will appreciate at all or appreciate sufficiently to make customers a profit. Lear is a retail seller of precious metals and its buyback (or bid) prices are lower than its sell (or ask) prices. Metals must appreciate enough to account for this difference in order for customer to make a profit when liquidating the metals. Lear does not provide financial advice or retirement planning services. The decision to purchase or sell precious metals, and which precious metals to purchase or sell, are the customer's decision alone, and purchases and sales should be made subject to the customer's own research, prudence and judgment.