Silver Orca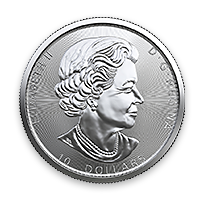 Description
At home and abroad, the Orca is one of Canada's most treasured and iconic animals, intimately tied to tradition, culture, heritage, and mythology.

Admired for their beauty and respected as talented hunters, they are the largest member of the dolphin family, and can swim up to 55 km/h, which makes it the world's fastest sea mammal.

Orcas are among the cleverest mammals on earth: they demonstrate the ability to learn new things during their lifetimes and teach these things to the next generation. They are loved for their sociability and playfulness, particularly their spectacular leaps.
Masterfully crafted using advance engraving techniques and special finishes.
Pushing the elements of design, incuse elements of the orca underwater create an added visual appeal.
A unique feature for cutting-edge security, a micro-engraved lasered maple leaf in the coin's field. In the centre of this mark, visible under magnification, is the numeral "19", denoting the coin's year of issue.
Radial lines on the coin's reverse and obverse create a unique light refracting pattern and pose as a layer of added security.
Guaranteed and backed by the Government of Canada.
Valuation
The coins mentioned above are often referred to as Semi-Premium coins as their value varies based on a variety of factors including but not limited to: age, the condition of the coin, mintage amount, demand and popularity. For up to date market pricing and availability, please contact Lear Capital directly and ask about our "value pricing" for orders of $20,000 or greater.
COIN NAME

Silver Orca

DESIGNED BY

Trevor Tennant

ISSUE DATE

2019

COMPOSITION

99.99% Fine Silver

DIAMETER

38 mm

WEIGHT

2 oz

EDGE

Serrated
The statements made on this website are opinions only. Past results are no guarantee of future performance or returns. Precious metals, like all investments, carry risk. Precious metals and coins may appreciate, depreciate, or stay the same depending on a variety of factors. Lear Capital, Inc. cannot guarantee, and makes no representation, that any metals purchased will appreciate at all or appreciate sufficiently to make customers a profit. Lear is a retail seller of precious metals and its buyback (or bid) prices are lower than its sell (or ask) prices. Metals must appreciate enough to account for this difference in order for customer to make a profit when liquidating the metals. Lear does not provide financial advice or retirement planning services. The decision to purchase or sell precious metals, and which precious metals to purchase or sell, are the customer's decision alone, and purchases and sales should be made subject to the customer's own research, prudence and judgment.