Eliasberg
The Only Man to Ever Assemble a Complete U.S. Coin Collection...

You'd think that the man responsible for assembling the only complete collection of United States coins would be someone born with "a silverspoon in his mouth." Far from it. Louis Eliasberg was raised in a household of modest means and, as such, serves today as a wonderful example of what the average coin collector or investor can achieve, given a degree of persistence, focus, and expertise.
Born in 1896 in Selma, Alabama, Loius Eliasberg became the head of his meager household while yet in his teens when his father passed away. But, instilled with a great work ethic, the young Louis managed to scrimp and save in the finest American fashion.
"How to Buy Gold When Gold Ownership is Illegal"
Along the way, when he was 37, he acquired an appetite for collecting gold coins. This came about largely by then President Roosevelt's landmark gold proclamation in March 4, 1933 which took gold out of popular circulation... but thankfully excluded rare and unusual gold coins.
Recognizing the importance of gold as a lasting medium of exchange and foundational asset for any portfolio, Louis taught himself the fine art of coin collecting. "I realized the only way I could legally acquire gold was by becoming a numismatist. So, in 1934, to the extent of my means, I started buying gold coins. I maintained a small book in which I recorded the cost of gold coins I had purchased; the various dates, denominations, and mintmarks," he explained in an address entitled, Why, When, and How I Assembled the Most Complete Collection of United States Coins.
"The Vision of a Complete Collection"
Not one to go about anything lightly, Eliasberg threw himself into his new passion. He became more and more interested in the coins themselves, acquiring many-mainly gold-over the next seven years. In the eighth year, 1942, he made a purchase that made him believe that the "Holy Grail" of coin collecting, the completion of a set of American coins, was indeed within his grasp. This was the acquisition of a fine collection, the John H. Clapp coin collection, and it filled in many of the missing gaps in his collection.
From that point, Louis made a list of the remaining coins necessary to complete his dream collection. With the help of his secretary, they began methodically scouring the coin market, auction by auction, dealer by dealer, for the missing coins. He didn't always know the kind of realistic prices these coins would realize at auction. So it became a process of trial-and-error: he would submit a bid, fail, then adjust the bid the next time a similar coin appeared on the market.
Finally, fifteen years after he embarked on collecting gold coins, Eliasberg succeeded in acquiring the remaining one missing from his collection. This was the gold 1841 Quarter Eagle. A year later, he purchased the final silver piece, the 1873-CC Liberty Seated dime "without arrows". This marked the complete collection of American coins, including all known dates and mintmarks. It was an unequaled feat, an accomplishment widely considered impossible, even back then. This skepticism was in no small part due to the fact that some key coins existed only in single-digit populations and rarely surfaced in auction.
"Breaking Up the Collection and a 1342% Rate of Return"
Humble Louis Eliasberg soon became known as the "King of Coins", even having letters addressed to him in that title. His exquisite collection was featured in Life magazine; it was featured in the nation's bicentennial in 1976, displayed at the Philadelphia Mint for its last public appearance.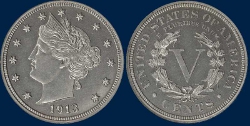 Six years later, in 1982, the first of three auctions began the break up of this incredible collection. The first record-breaking auction garnered $12.4 million. The second auction occurred fourteen years later, realized an amazing $11.6 million, and featured the first "million-dollar coin". This was the 1913 Liberty Head nickel, of which only five are known, and commanded $1,485,000. Bear in mind that Eliasberg acquired this pivotal coin in 1949-one of the hardest to find pieces in the collection-for $2,350 (which nevertheless was a small fortune back then and possibly equivalent to ten times that figure today). From acquisition to sale, investing in the 1913 Liberty Head nickel amounted to a 1342% profit each year for 47 years. As present coin populations continue eroding and diminishing, they, too, will experience explosive growth. Because, as the saying goes, "they just aren't making them anymore."
The third and final auction was the biggest of all. It occurred in April of 1997. $20.9 million was generated! It was here that a world record price was paid for a single coin: $1.8 million for the "King of Coins," the 1804 silver dollar.
All told, the collection realized a fantastic $44.9 million for the Eliasberg family. In the later 70's, even before investors took coin collecting to a brand new level, Eliasberg calculated that his "hobby" had yielded him a minimum return of over 119 percent per-year. And that was before the actual astronomical yields of the subsequent three auctions.
"How to Profit from Eliasberg's Strategy"
So how can you build a collection that will have family members thanking you for generations to come? Simple. Follow Louis Eliasberg's example.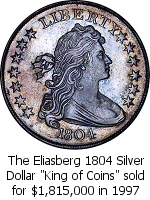 Here are the three tenets of his strategy:
Just as you would with stocks, develop a disciplined buying pattern.
Work with a reliable, knowledgeable dealer, just as Eliasberg did.
Within your means, acquire the finest quality coins you possibly can.
While you can't always invest the time and effort to know the cyclical history of a particular coin you might be considering, your dealer can. That's his job. Like other investments, coins tend to advance and decline in identifiable cycles...with one big difference: there is a constant "disappearance" of higher quality coins from the scene. This diminishing population is due mostly to collectors who have no interest in selling their beloved coins. Attrition due to wear and tear also accounts for fewer good coins. A trustworthy dealer will tell you whether or not it's a good time to buy a particular coin.
Don't view coin collecting/investing as a short term spurt. Think of it as a long term pastime. That's what Louis did. Establish a buying pattern and then stick to it.
Finally, buy right. Eliasberg always sought to buy coins "the finest coins as possible". While it's not as possible as it once was, given the great appreciation most investment coins have already experienced, you can still shop to buy coins with a "realistic" premium. Or, once you've established trust with your dealer, let him do the shopping and searching for you.
Will you, too, may be able to turn a $2,350 coin into $1,485,000 years from now? It's entirely possible. Changing market and economic conditions appear stacked in your favor. But, one thing's for sure, you cannot benefit from coin appreciation until you start owning them. Make your decision, choose your dealer, and, like Louis Eliasberg did, start acquiring the finest coins you possibly can.
The statements made on this website are opinions only. Past results are no guarantee of future performance or returns. Precious metals, like all investments, carry risk. Precious metals and coins may appreciate, depreciate, or stay the same depending on a variety of factors. Lear Capital, Inc. cannot guarantee, and makes no representation, that any metals purchased will appreciate at all or appreciate sufficiently to make customers a profit. Lear is a retail seller of precious metals and its buyback (or bid) prices are lower than its sell (or ask) prices. Metals must appreciate enough to account for this difference in order for customer to make a profit when liquidating the metals. Lear does not provide financial advice or retirement planning services. The decision to purchase or sell precious metals, and which precious metals to purchase or sell, are the customer's decision alone, and purchases and sales should be made subject to the customer's own research, prudence and judgment.