Get Started: Open or Rollover a Precious Metals IRA Account
The Lear Capital Precious Metals IRA is backed by gold or silver, a real asset that has risen over 400% in value over the past decade. A Silver or Gold IRA rollover account from Lear Capital may reduce the volatility of your retirement portfolio. It is smart, safe, and positioned for growth!
The authorities at Lear Capital have been assisting clients maximize their savings with precious metals like gold and silver for over a decade. Gold and silver combine physical, tangible asset with the modern tax-advantaged features of an individual retirement account, which is beneficial for all Americans. Precious Metal IRAs, including gold and silver, also help diversify against the volatility and risk of your retirement portfolio. Gold and silver allow clients to potentially preserve wealth and may even maintain IRA dollars by increasing the store of value of physical metals to your retirement. The trend of investing in gold and silver has been steadfast — even the global Central Banks have become net buyers of gold.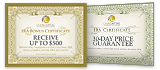 Open or Rollover a Lear Capital Precious Metals IRA with peace of mind thanks to our 2 exclusive offers. With the 30-Day Price Guarantee*, if the price of your metals drops within 30-days of opening your account, Lear Capital will adjust the value of your IRA to the market. With the $500 Bonus*, Lear Capital will pay up to $500 when you open a new IRA. Complete the form below to get started.
*Offers cannot be combined. Qualifying IRA accounts are eligible. Restrictions apply. Ask your account representative for details.